The Estey Organ Museum is fortunate to have a significant collection of music sheets, instructional books for amateur organists, catalogs, trade cards, and advertising materials published by the Estey Organ Company.
The museum's holdings also include photographs of the Estey factory buildings and the workers whose ingenuity and craftsmanship made Estey a household name.
Estey Organ Company Catalogs
These catalogs from our collection are scanned PDF files hosted at archive.org. You can view them online, download them for viewing or printing, share the links with friends, and more. Clicking the cover image or link will take you to the PDF file at archive.org.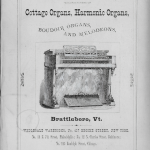 J. Estey & Company 1867
"Manufacturers of Cottage Organs, Harmonic Organs, Boudoir Organs, and Melodeons. Brattleboro, Vt. Wholesale warerooms, No. 417 Broome Street, New York. No. 18 N. 7th Street, Philadelphia; No. 12 Charles Street, Baltimore; No. 115 Randolph Street, Chicago." Printed in New York by L. H. Bigelow & Co, Printers and Stationers, No. 13 William Street.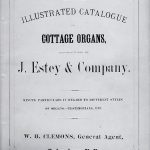 J. Estey & Company Illustrated Catalog 1871
"1846 (Established 25 Years.) 1872  Illustrated Catalogue of Cottage Organs, manufactured by J. Estey & Company. Minute particulars in regard to different styles of organs. —Testimonials, etc. W.H. Clemons, General Agent, Ogdensberg, N. Y." Gives a "brief account of the most extensive Cottage Organ Establishment in the World; together with a description of the different styles of organs manufactured, their peculiarities and patented improvements."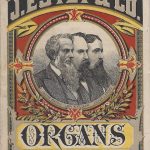 J. Estey & Co. Catalog 1876
"Established 1846. J. Estey & Co. Organs, Brattleboro, Vermont, U.S.A." Shows an image of Jacob Estey, Levi K. Fuller, and Julius J. Estey on the cover. "Estey & Co. employ only the most skilled workmen in every department, use only the best and most carefully selected material, and perform with the unfailing precision of intricate machinery much of the work which is elsewhere done by hand. Accomplished inventors are continually on the lookout for any possible addition to or improvement in the machinery, and new devices are being constantly tried and accepted."
Estey Organ Company Illustrated Catalogue 1888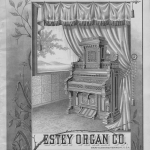 An illustrated catalog of Estey Organ Company reed organs published in 1888, including the Cottage, Chapel, Parlor, Philharmonic Chapel, Drawing Room, Chancel, Triumph, New Philharmonic Gothic, Harmonic, Acclimatized, Church, Grand Salon, and Cathedral styles, plus a price list and company information.
Additional online catalogs are available from years 1869, 1874, 1875, 1878, 1879, 1880, 1882, 1884, 1886, 1889-90, 1892, 1895, 1896, 1898, 1901, 1903, 1904, 1905, 1907, 1910, 1911, ca. 1922,  1928, and 1939.
We have an Estey Organs Duo Manual catalog from ca. 1922-23.
Special thanks to the Brattleboro Historical Society for loan of some catalogs for digitization.