The Estey Organ Museum is fortunate to have a significant collection of music sheets, instructional books for amateur organists, catalogs, trade cards, and advertising materials published by the Estey Organ Company.
The museum's holdings also include photographs of the Estey factory buildings and the workers whose ingenuity and craftsmanship made Estey a household name.
Estey Organ Company Catalogs
These catalogs from our collection are scanned PDF files hosted at archive.org. You can view them online, download them for viewing or printing, share the links with friends, and more. Clicking the cover image or link will take you to the PDF file at archive.org.
Estey Organ Company Illustrated Catalogue 1888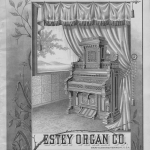 An illustrated catalog of Estey Organ Company reed organs published in 1888, including the Cottage, Chapel, Parlor, Philharmonic Chapel, Drawing Room, Chancel, Triumph, New Philharmonic Gothic, Harmonic, Acclimatized, Church, Grand Salon, and Cathedral styles, plus a price list and company information.